Mistletoe Heights Yard of the Month
September 2014: 2209 Irwin Street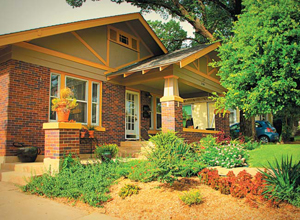 Lora Conville came to Fort Worth from north Louisiana in February of this year, and what she has done with her yard at 2209 Irwin is nothing short of transformative.
She describes it as a work in progress, because she has more plans for the front as time goes by. She added that she's still learning about gardening in North Central Texas, where conditions are far different than where she came from.
She has put in a St. Augustine lawn and kept it in lush condition. She has also put in beds and filled them primarily with traditional plant materials that are in keeping with the architecture of her house and the age of our neighborhood.
One oversized and poorly placed tree had to be removed, but she has kept a huge, elegant American Elm which not only is stately, but also anchors the features of her landscape in a way that lends permanence to the design.
The landscape is unassuming but full of surprises that one must walk right up to in order to discover. There is some quaint décor on the porch and the rocking chairs make it a nice porch for sitting. There are some accent plants in pots on the porch and a unique 3-tier planter made with traditional clay pots. I've never seen anything like it but all of a sudden I want one for myself. (Isn't imitation the highest form of fl attery?)
There is dark colored brick trim to the driveway, too. Lora has put in Begonias, a few old-fashioned Abelias, some Mexican Heather, and a few Loropetalum. There is a specimen Yaupon tree right by the driveway that is sculpted into a pleasant shape.
A couple of Yuccas survived from the previous landscape and Lora says she's still deciding whether or not they stay. She also has put in an interesting ground cover vine – Purple Winter Creeper. The overall effect is both simple and fi ts her home quite nicely.
Though yards are judged by what is visible from the street, her back yard is worthy of mention. She calls it her Western Secret Garden and you really need to see it to appreciate it. It has crushed granite walkways, a water feature, some lovely native grasses and a nice Wax Myrtle at the rear of the yard.
Future plans for the back include her outdoor kitchen. I hope she invites us to dine on the lovely deck she has put in adjacent to that targeted area.
Lora's yard qualifies for both Yard of the Month and one of the Most Improved yards in the neighborhood. We look forward to seeing the existing plants grow and to seeing the new additions she has planned.
Welcome to Mistletoe Heights, Lora, and thanks for all the creativity and hard work you've put in to make your yard so attractive.

- Bruce Horn
---