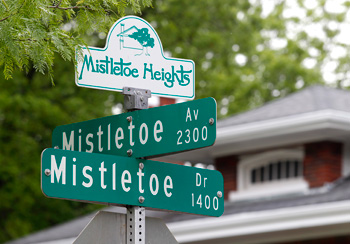 photo credit: Rodger Mallison
Mistletoe Heights, one of Fort Worth's oldest neighborhoods, is perched on bluffs overlooking the Clear Fork of the Trinity River. Developed in the second decade of the 20th century, Mistletoe Heights was designated as a historic district by the city of Fort Worth in 2002. Made up of more than 500 households on 640 acres, the neighborhood is within a lion's roar of the Fort Worth Zoo and a few minutes' drive of downtown's skyscrapers, Texas Christian University, world-class museums, the Botanic Garden, state-of-the art hospitals, upscale shopping, good schools and fine restaurants. Welcome to Mistletoe Heights, a neighborhood of cozy bungalows, front porches (often with a cat), leafy streets and friendly people, all in the heart of the city "where the West begins."
PRESIDENT'S CORNER
Gardening and all the benefits of getting dirty
2013-March
by Kyle Jensen, MHA President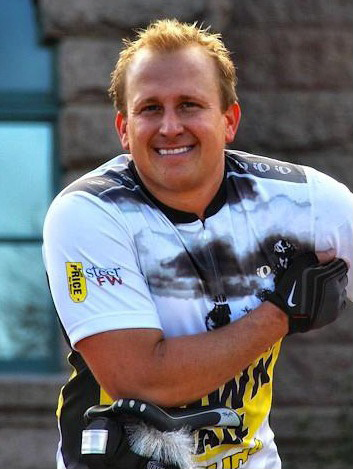 Are you interested in gardening? We are starting a small 10-by-10-foot garden in our backyard, as I hope many of you are. It would be wonderful if we had an expert gardener who would be willing to offer gardening tips to the neighborhood.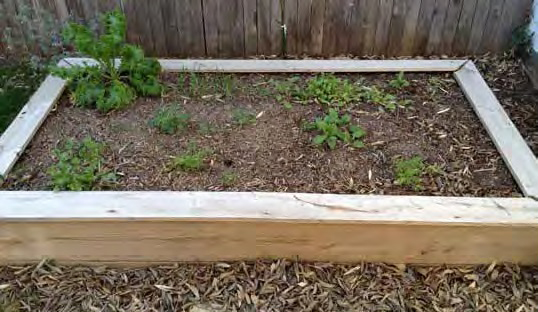 As spring approaches, it is that time of year to compile to-do lists for yard work and gardening—rain barrels, soil testing, shovels, worm farms, compositing, and seeds are all on my list. Even more important than the to dos, however, are the benefits you reap. Gardening decreases your carbon footprint; increases the health of your family; saves you money; increases the amount of quality family time; engages kids in productive social projects with less time spent on TV, internet, and games; promotes recycling, leadership, and sustainability; and it's great exercise! The lessons learned from gardening are positive, influential, and addictive. You will be surprised by the amount of neighbors who are working in their yard, too. Get digging! more ...
---
We Need Your Help!
2013-March
The neighborhood association is in need of volunteers!
We need a Historic Preservation Committee (three to five volunteers)! Kathy McReynolds and Martin Herring have done an excellent job chairing this position for us for over seven years and we are grateful for their time and efforts. They have volunteered to walk the new committee through the position to aid in the transition.
We need someone to take over as the advertising representative for the newsletter. This is a big job and Kelley Reece has kindly volunteered his time for over six years now. Someone with advertising experience would be ideal.
We need a web editor! The association is looking for someone to help manage the content on our current website. This person will work closely with the MHA officers and Scott Ewing. If you'd like more information, contact Kyle Jensen at 940.367.1428 or president@mistletoeheights.org. more ...
---
Forest Park Road Diet to commence in April
2013-March
by Susan Pressley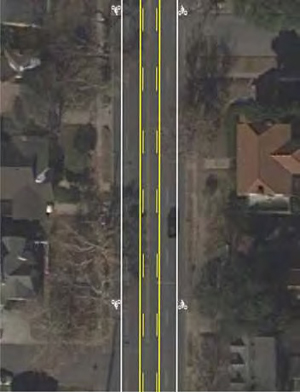 As many of you know, last November the Department of Transportation and Public Works announced it would restripe Forest Park to a three-lane road (two travel lanes and one middle turn lane). This decision was made after multiple meetings were held to gauge support and gather public comment, including a well-attended meeting in September at the Hilton Garden Inn. After reviewing the data and considering all of the comments received, and with the concurrence of Councilman Joel Burns, TPW recommended the road be restriped, which is commonly known as a road diet. The restriping will occur between W. Rosedale St. and Park Hill. Funding has been secured through the street rehab program and $75,000 has been set aside for the project. more ...
---
Mistletoe Heights Yard of the Month
March 2013: 2328 Rosedale South
The yard of the month for February is 2328 Rosedale S. The home of Barbara Schmidt. She is a lovely lady that has lived in the neighborhood for a year and a half. Previously, she was a 22-year resident of New Orleans. She moved to Fort Worth to be closer to her children and grandchildren. She is an artist working in sculpture and folk art. The biggest challenge maintaining her yard is battling the leaves that fall and are blown into her yard from the wind. more ...
---
April 2013: 2239 West Magnolia Avenue
The April yard of month goes to Thomas and Marjorie Day. This comes as no surprise as Marjorie is a Master Gardener. Her husband, Thomas, has worked with a typographic company that creates maps for the oil and gas industry since 1978.
The Days have lived in Mistletoe Heights for seven years, and Marjorie was also the former MHA newsletter editor. The Days have planted a variety of flowers and plants in their yard. They were chosen as this month's yard of the month because of their front yard, but their backyard deserves recognition as well. Plants include Don Juan's Climbing Rose, Irises (purple and white), Japanese Maple, Laguaria, Gem Magnolia, Texas Sage, Shasta Daisies, Buford Holly, Corabelle's, Black Scallop Aguga, and Verbina. more ...
---
---