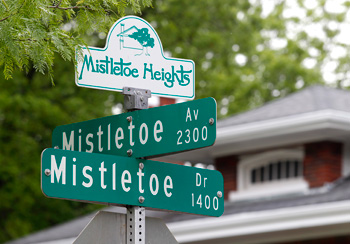 photo credit: Rodger Mallison
Mistletoe Heights, one of Fort Worth's oldest neighborhoods, is perched on bluffs overlooking the Clear Fork of the Trinity River. Developed in the second decade of the 20th century, Mistletoe Heights was designated as a historic district by the city of Fort Worth in 2002. Made up of more than 500 households on 640 acres, the neighborhood is within a lion's roar of the Fort Worth Zoo and a few minutes' drive of downtown's skyscrapers, Texas Christian University, world-class museums, the Botanic Garden, state-of-the art hospitals, upscale shopping, good schools and fine restaurants. Welcome to Mistletoe Heights, a neighborhood of cozy bungalows, front porches (often with a cat), leafy streets and friendly people, all in the heart of the city "where the West begins."
---
Useful Phone Numbes
NPO Corey Carpenter: 817-999-8057 (cell)
FWPD non-emergency number: 817-392-4222
FW Water Department: 817-392-4477
Oncor Outage Report: 888.313.4747
Jimmy John's: 817-348-0555
Jason's Deli: 817-920-1880
Torchy's Tacos: 817-289-8226
Firehouse Subs: 817-870-3841
Mistletoe Heights Association Membership
Membership in the Mistletoe Heights Association is voluntary. But if you join, you will help support wonderful neighborhood activities such as the yearly Easter Egg hunt, July 4th parade and party, Christmas decorations, and even this web site to name a few. Please click HERE to join
Mistletoe Heights History
Want to find out about Mistletoe Heights history? You should probalby start HERE. If you have additional historical information to share or would be interested in helping in any way, please contact our historian Luke Ellis at lellis@belaw.com.
Mistletoe Express Newsletter
Current and back issues of our monthly newsletter can be found HERE. Neightborhood news, additional stories of neightborhood history, advertisements for local products, contact information, and much more can be gleaned from the pages of the Mistletoe Express.
Mistletoe Heights Yard of the Month
Current and past recipients of Yard of the Month can be found HERE. Read about the hard work and lessons learned from your neighbor's gardening experiences
Stay in Touch
There are many ways to stay in touch with your neighbors:

You could join our email distribution list. Instructions can be found HERE. Once you join, you can then email the entire membership at this address residents@mistletoeheights.org
Or maybe you are a Facebook fan. Connect with us at Residents Chat Room or Facebook Fans
We also have a page a Nextdoor.com, "The private social network for neighbors in Mistletoe Heights". Click Nextdoor Fans to get started.
Mistletoe Heights Photo Gallery
Pictures, pictures and more picture can be found at this link Gallery. There are photos of all the houses in the neighborhood. Some historical photos can also be found. Did you miss the last holiday celebration? Look no further. Don't forget to scroll down, there are lot's of pictures.
---