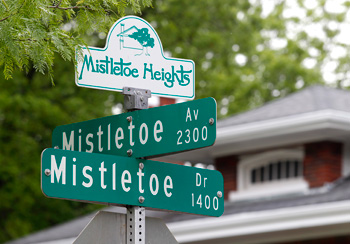 photo credit: Rodger Mallison
Mistletoe Heights, one of Fort Worth's oldest neighborhoods, is perched on bluffs overlooking the Clear Fork of the Trinity River. Developed in the second decade of the 20th century, Mistletoe Heights was designated as a historic district by the city of Fort Worth in 2002. Made up of more than 500 households on 640 acres, the neighborhood is within a lion's roar of the Fort Worth Zoo and a few minutes' drive of downtown's skyscrapers, Texas Christian University, world-class museums, the Botanic Garden, state-of-the art hospitals, upscale shopping, good schools and fine restaurants. Welcome to Mistletoe Heights, a neighborhood of cozy bungalows, front porches (often with a cat), leafy streets and friendly people, all in the heart of the city "where the West begins."
PRESIDENT'S CORNER
2013-September
by Kyle Jensen, MHA President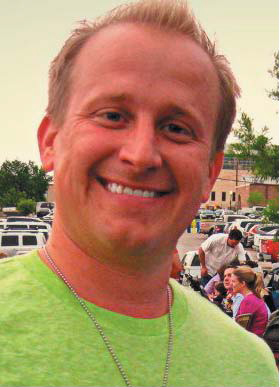 When we first moved into the neighborhood, we wanted to get to know our neighbors. Locating a time to introduce ourselves was up to chance because we were busy getting settled in and making that connection was important but not necessarily a priority. Knowing your neighbors, however, provides a safer, more connected community, one where people looking out for each other. You might just make some really strong, longlasting friendships.
Use the Front Porch or Yard
We're all very busy and getting to know people in your neighborhood does in fact take time. What I like to do is to turn the everyday activities into ones that may lead to introductions. more ...
---
2013-August
by Kyle Jensen, MHA President
Do you feel connected to others, or do you feel overcrowded, even threatened? Feeling connected, along with other aspects of neighborhood life, can impact both your levels of happiness and stress. I would like to discuss a few ways you can enrich your life.
Socialize: With our busy schedules, we don't always see friends as often as we'd like. For a bit of socializing that takes only minutes out of your day, stop and chat with the people you see on the way out to your car. The more people you have available for shared social support, the better you feel.
Pooled Resources: I have heard stories of neighbors who share dinners, making it easier to serve a homecooked meal. Others trade fruit from their trees or vegetables from their gardens. I went to a pool party at the Martin home, brought a projector for an outdoor movie, and the following day they offered me the best jar of homemade jam made from fruit off a tree in their yard. When you give a neighbor eggs, they may come back with a plate of cookies baked with the eggs you supplied. Sharing with your neighbors provides a sense of generosity and builds relationships. Recently, I asked a question on our Facebook Chat Room regarding an injured hawk and within seconds I had a ton of options on how to handle the situation. The same result can be had with our email system (residents@mistletoeheights.org). more ...
---
2013-June
by Kyle Jensen, MHA President
From the moment we wake up to those last minutes before bed, it seems like there is never enough time in the day—whether it's starting that fi rst load of laundry or watering the garden or sitting in an hour of traffic before work only to sit in an hour of traffi c after work and then inhaling dinner in order to take the kids to three different practices and then coming home in time to do homework and put the kids to bed to those last minutes spent looking over emails that needed answering a week ago. It seems like we have little time to think about volunteering for community projects. But busy schedules do not mean we have to write off community involvement. In thirty minutes or less, you can make a difference in the neighborhood. Here are some ideas that might inspire you to help our community in the midst of your everyday activities: more ...
---
Alley Cleanup Day
2013-September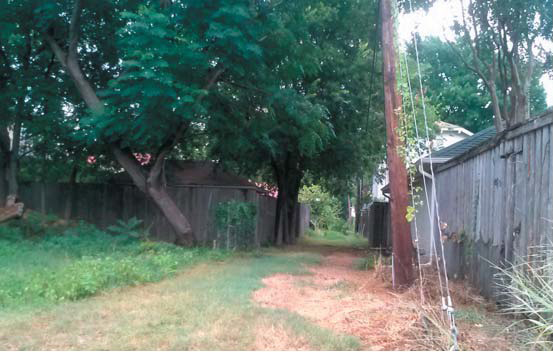 There will be an Alley Cleanup Day October 19, from 8 am to noon. We need volunteers to provide labor, tools, and drinks and lunch. If there is an area in our neighborhood that you feel needs some special attention, please nominate that location and send photos and/or a list of what needs to be accomplished. more ...
---
Neighborhood Tree Planting Program
2013-May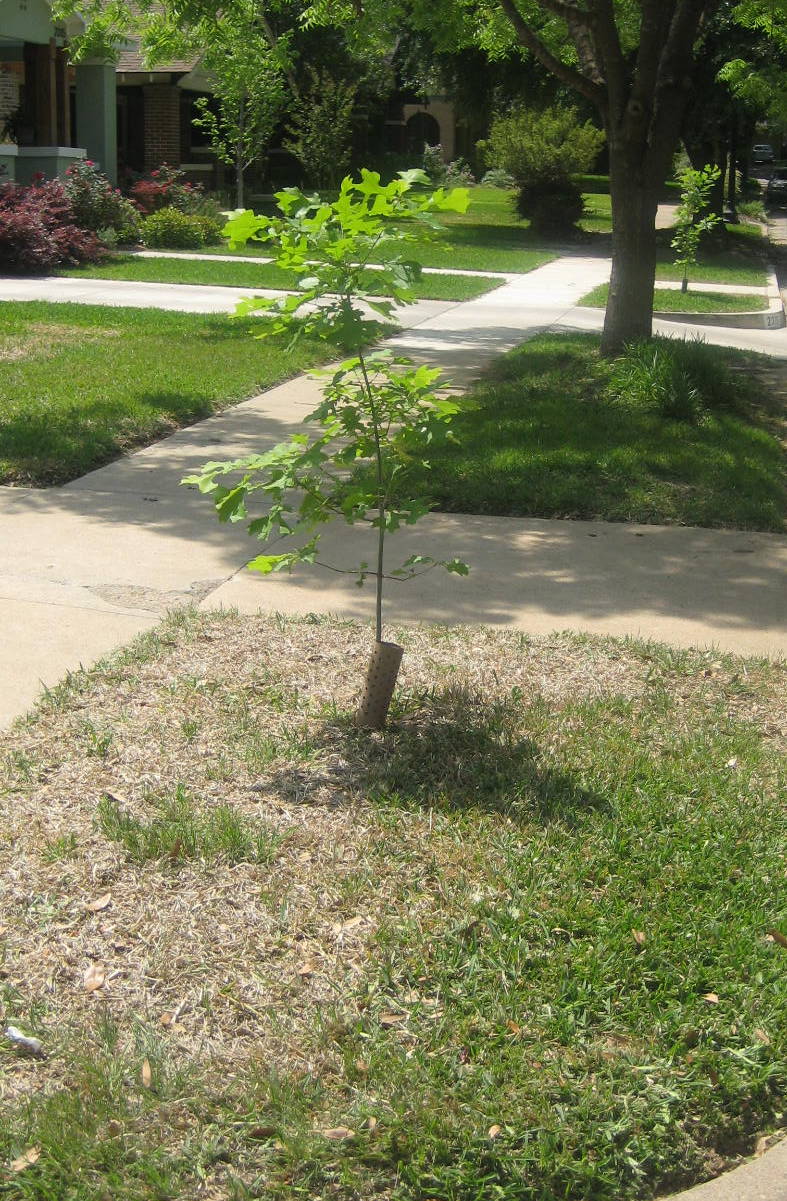 The best time to plant a tree was 20 years ago. The next best time is now. ~ Chinese Proverb
Someone's sitting in the shade today because someone planted a tree a long time ago. ~ Warren Buffett
The City provides free trees in the spring and fall. Mike Danella of Irwin Street has been coordinating this program with the city for the past two years. So far more than twentyfive trees have been planted in the neighborhood. If you would like a tree, please email Mike with your choice, along with your name and address, to ny44mad@yahoo.com. He will compile a list for the neighborhood and submit it to the city. He will arrange delivery of the trees to individual homes. The city will mark the locations of the trees to be planted and will provide a pamphlet with instructions for planting and care. more ...
---
Mistletoe Heights Yard of the Month
September 2013: 2212 Mistletoe Blvd
The September of the Yard of the Month goes to newlyweds David and Claudia Gunn at 2212 Mistletoe Blvd. David grew up in New Zealand and spent his teenage and college years in Australia before moving to England for graduate school. His career brought him to the United States (Atlanta, GA) where he eventually made his way to Fort Worth. Claudia comes from Philadelphia and has been in Fort Worth for thirty-three years. She moved to Mistletoe Heights in 1992. The couple married early this year. more ...
---
August 2013: 2400 Harrison Avenue
This month's Yard of the Month belongs to Melanie and Flavious Smith of 2400 Harrison Avenue. The Smiths live at the triangle on the corner of Buck and Harrison in a distinguished home that was built around 1918 or before the city started keeping records. They moved to Mistletoe Heights in 2007 from Pittsburgh, Pennsylvania. Flavious comes from the oil business and Melanie is a retired interior designer. This time of year you will find beautiful periwinkle flowers, begonias, knockout roses, and lantanas in their front beds. more ...
---
June 2013: 2208 Weatherbee
Susan and Scott Harwell are the June/July Yard of Month recipients. This is the third time the Harwell's have received the Yard of the Month award. They live at 2208 Weatherbee and have been in Mistletoe Heights for over nineteen years. Susan is employed at Fort Worth ISD as a curriculum writer and Scott is a Reliability Engineer at Bell Helicopter. Susan's hobby is working in her yard during the week and on Saturday mornings. Their yard is landscaped with a wide range of plant species, including hawthorn bushes that outline her front porch and the yaupon trees in the front yard. Other flowers and plants include lilies, magnolias, and a few variants of clematis, including the Texas clematis. more ...
---
May 2013: 1134 Buck Street
The Yard of Month for May is a past winner from seven or eight years ago—Ellen Rubinson of 1134 Buck St. She has been living in her house for nineteen years and is a Fort Worth native. She is currently working in Sales at Neiman Marcus (jewelry designer) in the Ridgemar Square Mall. Ellen loves this neighborhood; not for the unique houses or the well-maintained yards, but for the people that make up the neighborhood. Ellen enjoys walking through the neighborhood and spending time in her yard, particularly in the cooler spring weather before it gets too hot. more ...
---
---
---