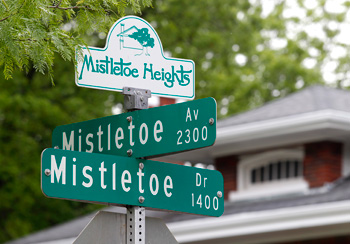 photo credit: Rodger Mallison
Mistletoe Heights, one of Fort Worth's oldest neighborhoods, is perched on bluffs overlooking the Clear Fork of the Trinity River. Developed in the second decade of the 20th century, Mistletoe Heights was designated as a historic district by the city of Fort Worth in 2002. Made up of more than 500 households on 640 acres, the neighborhood is within a lion's roar of the Fort Worth Zoo and a few minutes' drive of downtown's skyscrapers, Texas Christian University, world-class museums, the Botanic Garden, state-of-the art hospitals, upscale shopping, good schools and fine restaurants. Welcome to Mistletoe Heights, a neighborhood of cozy bungalows, front porches (often with a cat), leafy streets and friendly people, all in the heart of the city "where the West begins."
PRESIDENT'S CORNER
2013-December
by Kyle Jensen, MHA President
Life moves at such a fast pace that it seems to pass us by before we can really enjoy it. This past year as your president has come and gone, and I feel blessed to have the opportunity to represent our great neighborhood. I have met so many wonderful friends. I began to list them here but then quickly realized the list is too long. I want to thank all of you for being my backbone. I want to share a poem for all those who have helped in making the neighborhood better this past year.
"Once there was a wall that divided many. The wall came down but some pieces still remain. The world is so big and we are all so small. Sometimes it feels like we can't do anything, but the world can be better in spite of our fl aws. The world can be better and you'll be the cause, even though many times the waves are bigger than our boats. The wind keeps us sailing; its love gives us hope. Some days its dark but we'll keep rowing because people like you keep whispering, "Keep going, keep going keep going!" And it's because of you, you keep us going. Who keeps you going? Tell them, "Keep going, keep going, keep going!" more ...
---
Mistletoe Heights Yard of the Month
December 2013: 2230 Mistletoe Drive
December Yard of the Month goes to Dina and Matt Goetz. The Goetzes are located at 2320 Mistletoe Dr. They just moved into Mistletoe Heights three months ago from Berkeley. Dina has worked in the FWISD Libraries for years and Matt is a business litigation attorney. The Goetzes were chosen for the December Yard of Month because of how well their yard and plants are maintained during this time of year. They do all of their own yard work and have plenty of geraniums, begonias, and ferns. They also recently replanted some hydrangeas. more ...
---
November 2013: 1100 Buck Avenue
November's Yard of the Month goes to Donna Dempsey. She moved to Mistletoe Heights in March of this year from Arlington. She is the President and CEO of Easter Seals of North Texas, a non-profit organzation that helps individuals with disabilities. She has been part of Easter Seals for five years and moved to Mistletoe Heights to be closer to work and to avoid traffic. Her yard was chosen for its simplistic beauty. She credits the previous neighbors and her yard man for doing such a great job keeping the grass green and the beautiful shubbery, red maple leaves, and rose bushes healthy. Her plans are to add tulips and rose bushes to the side of the house. Be sure to welcome and congratulate our new neighbor, Donna, to the neighborhood if you haven't already. more ...
---
October 2013: 2350 Mistletoe Blvd.
Mark and Sue Crumblish moved to Fort Worth in January 2012. Mark works for Lockheed Martin and Sue works at Westcliff Animal Hospital. They have three children, Eamonn, who is a junior at the United States Naval Academy and plays ice hockey for Navy; Connor, who is a junior at the University of Arkansas and plays ice hockey for the Razorbacks; and their daughter, Chandler, who is a freshman at the University of Arkansas and runs cross country and track for the Razorbacks. more ...
---