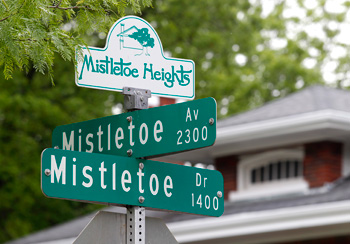 photo credit: Rodger Mallison
Mistletoe Heights, one of Fort Worth's oldest neighborhoods, is perched on bluffs overlooking the Clear Fork of the Trinity River. Developed in the second decade of the 20th century, Mistletoe Heights was designated as a historic district by the city of Fort Worth in 2002. Made up of more than 500 households on 640 acres, the neighborhood is within a lion's roar of the Fort Worth Zoo and a few minutes' drive of downtown's skyscrapers, Texas Christian University, world-class museums, the Botanic Garden, state-of-the art hospitals, upscale shopping, good schools and fine restaurants. Welcome to Mistletoe Heights, a neighborhood of cozy bungalows, front porches (often with a cat), leafy streets and friendly people, all in the heart of the city "where the West begins."
PRESIDENT'S CORNER
2014-October
by Kyle Jensen, MHA President
Childhood obesity is higher than ever before. Mayor Price has been promoting the walking school bus along with many other programs to help combat the issue. We made a video challenge for Mayor Price. She loves creativity and technology and it got her attention. She accepted our video challenge and plans to walk with the Mistletoe Heights kids to Lily B. Clayton Elementary on October 10.
The walking school bus is when kids follow a central route allowing them to meet up with other kids as they make their walk to school. It requires one adult per group but shows kids that walking to and from school can be fun, safe, and great exercise.
Mayor Price and Councilwoman Zadeh will start the walk from 1105 Mistletoe Drive at 7:26AM.

GREEN Route: will go South on Mistletoe Drive, East on Mistletoe Blvd at 7:29, then South on Jerome at 7:36. It will meet up with the BLUE route at the corner of Jerome and Edwin at 7:45, then continue South on Jerome, turn East on Weatherbee at 7:50 and arrive at Lily B at 7:51.
BLUE Route: will start at the Little Free Library and go South on Buck at 7:35. It will continue South on Mistletoe Drive at 7:36, turn East on Edwin at 7:38 and meet the GREEN route at the corner of Edwin and Jerome at 7:45. It then continues to school arriving at 7:51.
Our elected officials will highlight the importance of exercise and community. Great premises. There will be a celebration at the school and news coverage. I hope you walk with us and thank you for your passion for our community.
---
Mistletoe Heights Yard of the Month
June/July 2014: 2223 Harrsion
2223 Harrison is almost a redundancy at June's Yard
of the Month: The porch itself with its delightful potted plants moves beyond 'welcoming' all the way into 'beckoning.' When we walk by we just kind of want to go
sit a spell on that porch. The potted plants and especially
the color scheme created thereby give an Italianesque
feel to the place. If a porch and the effect created can be
cozy, this one certainly is. Read more ...
---
May 2014: 2305 Edwin Street
The Yard of the Month for May is the home of Jim and
Amy Pannell. The Pannells have lived at their home
since 2001. Jim is a financial advisor with Edward Jones
and Amy is the founder of a non-profit organization that
teaches English as a second language to students in
countries across the world. They have two children;
Grant and L.G. Grant is a senior at Paschal High School
and will be attending Baylor this fall. L.G. is a student at
McLean Middle School. Read more ...
---
April 2014: 1312 Mistletoe Drive
Selected for the April Yard of the Month is the beautiful home of Jeff & Karen Bourland located at 1312 Mistletoe Dr. When Jeff and Karen moved into the house 10 years ago, with their four children, it was a homecoming for Jeff because this is the same house he grew up in as a child. Read more ...
---