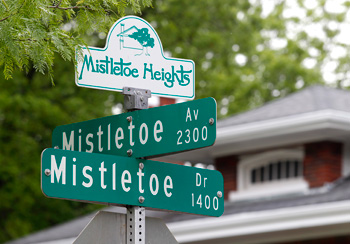 photo credit: Rodger Mallison
Mistletoe Heights, one of Fort Worth's oldest neighborhoods, is perched on bluffs overlooking the Clear Fork of the Trinity River. Developed in the second decade of the 20th century, Mistletoe Heights was designated as a historic district by the city of Fort Worth in 2002. Made up of more than 500 households on 640 acres, the neighborhood is within a lion's roar of the Fort Worth Zoo and a few minutes' drive of downtown's skyscrapers, Texas Christian University, world-class museums, the Botanic Garden, state-of-the art hospitals, upscale shopping, good schools and fine restaurants. Welcome to Mistletoe Heights, a neighborhood of cozy bungalows, front porches (often with a cat), leafy streets and friendly people, all in the heart of the city "where the West begins."
PRESIDENT'S CORNER
2014-June/July
by Kyle Jensen, MHA President
I was elected to be your president in 2012 after living in the neighborhood for only a few months. I have a wife, Stephanie, and a seven-month-old son named Colton who thinks he is a super hero. After hosting the Mistletoe Drive block party, I realized that I have not done a good job of letting you know who I am and where I hope to lead the neighborhood. With the advancement of the internet and game consoles, the idea of spending time outside with a neighbor has become foreign and, many times, awkward. I have numerous online friends but often fi nd myself lonely. I talk to them daily but none of them really know me. Our kids' daily routines have changed from when we were kids. We talked with our friends face-to-face or on the phone, but now we speak to a name on a screen. In many ways, social media is anything
but social; we open our computers only to shut our doors.

My goal is to remap these routines. My goal is to engage you to volunteer yourself back into the neighborhood, back into life. I have the opportunity to reach out to you once a month through this
newsletter. I pray that someone finds something in these letters to be of value. Something that helps relieve some of the weight of life. In this issue, I have chosen to write some thoughts of fatherhood. Read more ...
---
Mistletoe Heights Yard of the Month
June/July 2014: 2223 Harrsion
2223 Harrison is almost a redundancy at June's Yard
of the Month: The porch itself with its delightful potted plants moves beyond 'welcoming' all the way into 'beckoning.' When we walk by we just kind of want to go
sit a spell on that porch. The potted plants and especially
the color scheme created thereby give an Italianesque
feel to the place. If a porch and the effect created can be
cozy, this one certainly is. Read more ...
---
May 2014: 2305 Edwin Street
The Yard of the Month for May is the home of Jim and
Amy Pannell. The Pannells have lived at their home
since 2001. Jim is a financial advisor with Edward Jones
and Amy is the founder of a non-profit organization that
teaches English as a second language to students in
countries across the world. They have two children;
Grant and L.G. Grant is a senior at Paschal High School
and will be attending Baylor this fall. L.G. is a student at
McLean Middle School. Read more ...
---
April 2014: 1312 Mistletoe Drive
Selected for the April Yard of the Month is the beautiful home of Jeff & Karen Bourland located at 1312 Mistletoe Dr. When Jeff and Karen moved into the house 10 years ago, with their four children, it was a homecoming for Jeff because this is the same house he grew up in as a child. Read more ...
---