---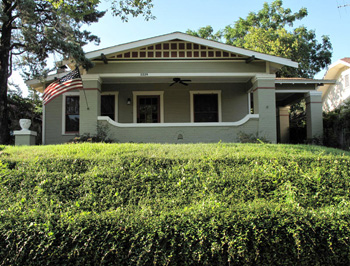 photo credit: Rodger Mallison
Mistletoe Heights History
Mistletoe Heights sits on the bluffs overlooking the Clear Fork of the Trinity River, approximately two miles southwest of the Central Business District. The 640 acres in Mistletoe Heights are included in the 1854 Ethelbert S. Harris Survey. This land was considered rural when Harvie C. Lawrie of Colorado, owner of the land in 1890, laid out the streets by "setting a 2 inch oak wagon spoke stake at the corner tree thereof," according to plat records.
In November, 1892, Mistletoe Heights Land Company purchased the land, subsequently naming it Mistletoe Heights. Around this time the land was considered too expensive for farm land and too far out for development.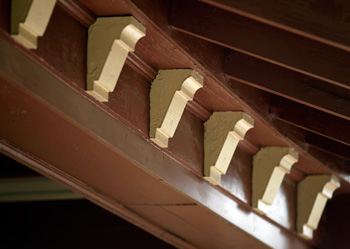 photo credit: Rodger Mallison
It was not until 1909, when the City of Fort Worth annexed part of Mistletoe Heights, that development began in earnest. The existing streets at that time had names such as Feldhauser, Zang and Estabrook, but after completion of platting in 1910 by Mistletoe Heights Realty Company, they were renamed to what they are today.
The remainder of the neighborhood was annexed by the City in 1922. Originally, lots could be purchased for $100, but by 1926 were selling for around $1500. Land value increased partially because of Texas Christian University's move to its present location in 1910. The move also brought a street car line through the area, and paving of streets soon followed, encouraging development.
Mistletoe Heights' second phase of annexation by the City of Fort Worth in 1922 was opposed by residents over a school dispute. Mayor Cockrell accused the residents of non-support of the city, even though they were getting city services and earning their incomes in Fort Worth. The dispute was resolved and nearby Lily B. Clayton Elementary School was constructed in 1922. The school originally contained four classrooms, but was enlarged in 1934 by the Works Progress Administration (WPA). The school was enlarged to its present size in 2002.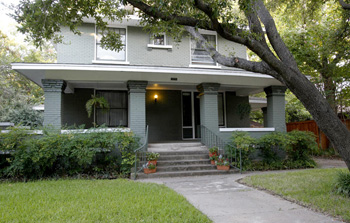 photo credit: Rodger Mallison
Deed restrictions in Mistletoe Heights prohibited the selling of homes to minorities, a provision which is today illegal. It also specified that alcohol could not be sold from properties, and that homes must cost at least $5000 and could not be of frame construction. Stables were also allowed.
Many homes in Mistletoe Heights are listed as historically significant in the Tarrant County Historic Resources Survey. In 2002, Mistletoe Heights was designated a Historic District by the City of Fort Worth.
---
A letter from Mr. A. C. Ponton with memories of growing up in our neighborhood here
A link lots of historic photos and info on Fort Worth http://www.fortwortharchitecture.com/oldftw/oldftw.htm
---
The following first appeared in prior issues of our neighborhood newsletter Mistletoe Express. The various issues as indicated and referenced in the text. The history was researched and written by Wyatt Teague, one of our dear neighbors.
Mistletoe Heights
By Wyatt Teague 1919-2008
First of a series 11/2005
I have been asked to write some history about Mistletoe Heights. It would seem appropriate to write some for a series of publications of Mistletoe Express. Because a great number of our neighbors are not native Texans, I think that the beginning should be at the early days of Texas.
On March 6, 1836, Texas gained independence from Mexico, and the Republic of Texas was created. The Texas Legislature, on Feb. 4, 1841, passed an act; "granting land to immigrants."
---
Lily B. Clayton Elementary
Historical information about Lily B. Clayton Elementary School here.
---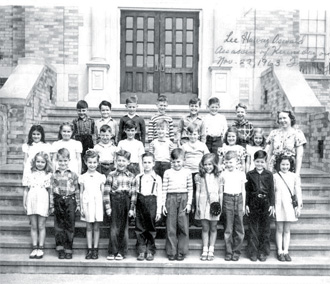 This image is from Lily B. Clayton Elementary School.
Lee Harvey Oswald was a student there.
Can you find which one he is?
---