Mistletoe Heights Yard of the Month
August 2014: 2105 Morphy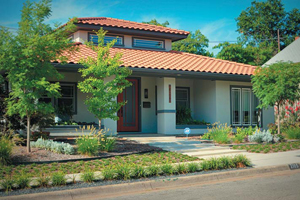 The Yard of the Month for August is that of Joe and Lillian Greenslade at 2901 West Morphy—perhaps the most underappreciated street in Mistletoe Heights!
Joe and Lillian had their home built a mere 18 months ago and, as Lillian remarked, "The yard is a work in progress!"
It's easy to see that, as time goes by, the plantings will grow not only in size, but also in dramatic impact.
The grey trim of the house accents the various kinds of ferns in the planter boxes built into the porch. Two huge pots with ferns billowing out of them on the porch add to the effect.
The yard is slightly terraced. Flowing horizontal lines create the effect of a river of plants.
On the west side are several Crepe Myrtles, which draw the eye to a beautiful and unique stone wall and wooden fence toward the back of the property.
There is an assortment of specimen plants in the front including three Pistachio trees, one Ginkgo, Possum Haw Hollies, and clumps of Hamelin Grass. In addition there are American Beauty Berry bushes and Hibiscus as well.
All of these are set in a yard composed of Dwarf Liriope.
The Parkway is planted with standard Liriope set in black stone hardscape.
The color of the house creates a background for and accentuates the color of the plantings. One of the stunning features of the Greenslades' home is the various sculptures in front and on the side yard. Joe mentioned that all of the sculptures were done by local artists. The color of the sculptures makes the color of the front door really pop! The resulting combination is both subtle and vivid—muted where needed and vivid where appropriate.
I must admit that I have a soft spot for tasteful yard art, and what the Greenslades have provided is absolutely first class. Their high-quality pieces enhance the entire block.
Congratulations to Joe and Lillian—their work is an aesthetic gift to the entire neighborhood.
- Bruce Horn
---