Mistletoe Heights Yard of the Month
October 2013: 2350 Mistletoe Blvd.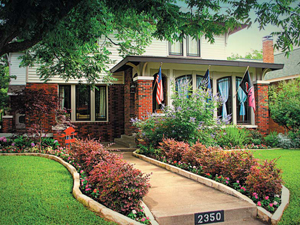 Mark and Sue Crumblish moved to Fort Worth in January 2012. Mark works for Lockheed Martin and Sue works at Westcliff Animal Hospital. They have three children, Eamonn, who is a junior at the United States Naval Academy and plays ice hockey for Navy; Connor, who is a junior at the University of Arkansas and plays ice hockey for the Razorbacks; and their daughter, Chandler, who is a freshman at the University of Arkansas and runs cross country and track for the Razorbacks.
When the Crumblish family purchased their home it had been vacant for over a year so the lawn was basically nonexistent with the exception of a few weeds. They had a sprinkler and drip system installed and added the stone border as well as increasing the square footage of an existing front garden. They added a Japanese Maple tree, hydrangeas, lorapedlum, Texas sage, roses, and seasonal flowers.
Philip Ship is the gentleman who takes care of the lawn maintenance and planting and is the reason why the lawn looks so nice.
- William Ritter
---