Mistletoe Heights Yard of the Month
April 2013: 2239 West Magnolia Avenue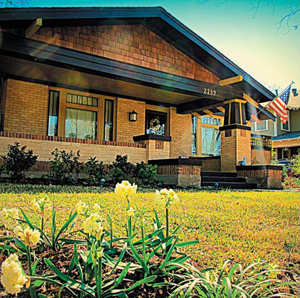 The April yard of month goes to Thomas and Marjorie Day. This comes as no surprise as Marjorie is a Master Gardener. Her husband, Thomas, has worked with a typographic company that creates maps for the oil and gas industry since 1978.
The Days have lived in Mistletoe Heights for seven years, and Marjorie was also the former MHA newsletter editor. The Days have planted a variety of flowers and plants in their yard. They were chosen as this month's yard of the month because of their front yard, but their backyard deserves recognition as well. Plants include Don Juan's Climbing Rose, Irises (purple and white), Japanese Maple, Laguaria, Gem Magnolia, Texas Sage, Shasta Daisies, Buford Holly, Corabelle's, Black Scallop Aguga, and Verbina.
Also impressive is that they started their yard from scratch. They do their own composting, which they use to fertilize their gardens. The Days also use rain barrels for irrigation. Their biggest challenges include minimizing the grass sections of their lawn to include more gardens and reducing watering expenses. Marjorie also propagates many of her plant varieties to lower the expense of buying mature plants in some species. I am excited to see what great ideas they come up with next to conserve and recycle.
This month was a competitive one for yard of the month. We do have some prospects to check back with, so keep up the great work!
- William Ritter
---