Mistletoe Heights Yard of the Month
August 2012: 1126 Buck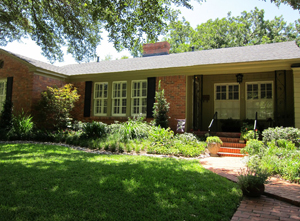 Congratulations to Margaret and Walter Brady at 1126 Buck, recipients of the Mistletoe Heights Association Yard of the Month for August. After living in the house for several years, the Brady's removed all the old shrubs and edging in fall 2011, and installed a revamped landscape in spring 2012. While Walter certainly enjoys the lovely new setting, Margaret is the main gardener in the family.
Working with a friend who is a professional landscaper, Margaret laid outflower beds in graceful, undulating curves that sweep across the front of the house and outlined them with river rocks. The beds are filled with a variety of ground cover, shrubs, perennials, and annuals. A large live oak tree near the front walk shades the mid-section of the beds, the corners receive full sun, and some areas in between receive only dappled sunlight, necessitating thoughtful care when selecting and placing plants.
For shrubs, Margaret chose pink Indian hawthorn along with hollies pruned to tall, pyramidal shapes. Mondo grass, which does well in both shade and partial shade, is the dominant groundcover planted alongside variegated hostas. A Japanese maple, which must be protected from the hot Texas sun, is planted in a shady corner near the porch. Several varieties of ferns (one of Margaret's favorite plants) provide texture, and shadeloving annuals such as caladiums and impatiens provide spots of color. In areas that receive partial or full sun, Margaret planted variegated liriope, gerbera daisies, lavender, lamb's ear, salvias, verbena, and hardy plumbago. A camellia bush near the porch is loaded with buds and should provide beautiful color in cooler months to come.
Mistletoe Heights Association expresses appreciation to Margaret and Walter for helping beautify our neighborhood. A special thanks to Calloway's Nursery for their support through the generous donation of a $25 gift certificate to each Yard-of-the-Month recipient.
---