Mistletoe Heights Yard of the Month
June 2012: 2208 West Rosedale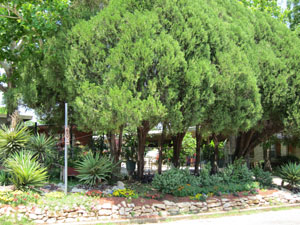 Congratulations to Otto Vera, recipient of the Mistletoe Heights Association Yard of the Month for June. Otto has given loving care to the property at 2208 West Rosedale for the past 15 years, turning a large concrete area into an inviting patio. Shaded in morning and afternoon, the area provides the perfect spot for enjoying a morning cup of coffee or a relaxing evening meal.
Because there is no open or grassy area for digging, Otto has hung pots and containers on the fence as well as lined the perimeter of the yard. These pots are filled with a variety of plants, most of which are tropicals such as hibiscus, ferns, ficus, and rubber trees. While these plants thrive outside in spring and summer, they must be brought inside to a greenhouse area during winter months. Many of the plants Otto tends have been "saved" from sure death at the hands of less conscientious gardeners. The hibiscus plants, for instance, were about to be trashed by a coworker at the end of a summer season. With Otto's care, the plants were repotted, cared for during the winter months, and now bloom happily in his garden.
The patio is screened from view on the street side by a row of cedar trees with large yuccas at each end and a variety of annuals and perennials planted beneath the trees. To make the area more hospitable for plants, Otto used stones to build a retaining wall and added topsoil to create a raised bed.
Otto has planted caladium bulbs, his favorite plant, along the fence on the driveway side and in hanging baskets. Splashed with shades of green, white, pink and red, the long-lasting foliage of the caladiums provides additional color and creates an atmosphere that seems cool and inviting even on hot days.
Mistletoe Heights Association expresses appreciation to Otto for helping beautify our neighborhood. A special thanks to Calloway's Nursery for their support through the generous donation of a $25 gift certificate to each Yard- of-the-Month recipient.
---