Mistletoe Heights Yard of the Month
May 2012: 2301 Mistletoe Boulevard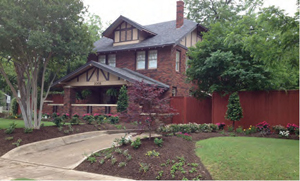 Congratulations to the Reece family, recipients of the Yard of the Month for the month of May. Megan and Kelley Reece recently moved to Mistletoe Boulevard from Magnolia this past summer with their two children Ruby and River.
Located at 2301 Mistletoe Boulevard, this historic home has come full circle and become a true asset to the neighborhood, boasting with charm from times past. The new addition of the beautiful landscape was installed with native plants in mind that could survive our extreme North Texas temperatures. The front lawn is beautifully punctuated with sweeping flower beds on either side of the driveway, brimming with summer color and tender perennials. The east side of the yard is anchored with brilliant Pink Hydrangeas, Cleyera, and Yellow Day Lilies. The West side of the yard is anchored with Pink Knock Out Roses and Indian Hawthorns, punctuated by Purple Wandering Jew and Yellow Day Lilies. Accents of Blackfoot Daisies, Pink and White Dianthus, Japanese Holly Ferns and Blue Salvia are dotted throughout. A young Japanese Maple trees rise up from west side of the driveway and the beautiful, mature crepe myrtle flanks the east side of the entrance from the driveway.
Mistletoe Heights Association expresses appreciation to the Reece family for helping beautify our neighborhood. The Reece family will receive a generous gift card of $25.00 from Calloway's Nursery as recipients of the Mistletoe Heights Neighborhood Association Yard of the Month.
---